IMPRESSIVE RESUMES EASY ONLINE BUILDER
Professional out-of-the-box resumes, instantly generated by the most advanced resume builder technology available.
Effortless crafting. Real-time preview & pre-written resume examples.
Dozens of HR-approved resume templates.
Land your dream job with the perfect resume employers are looking for!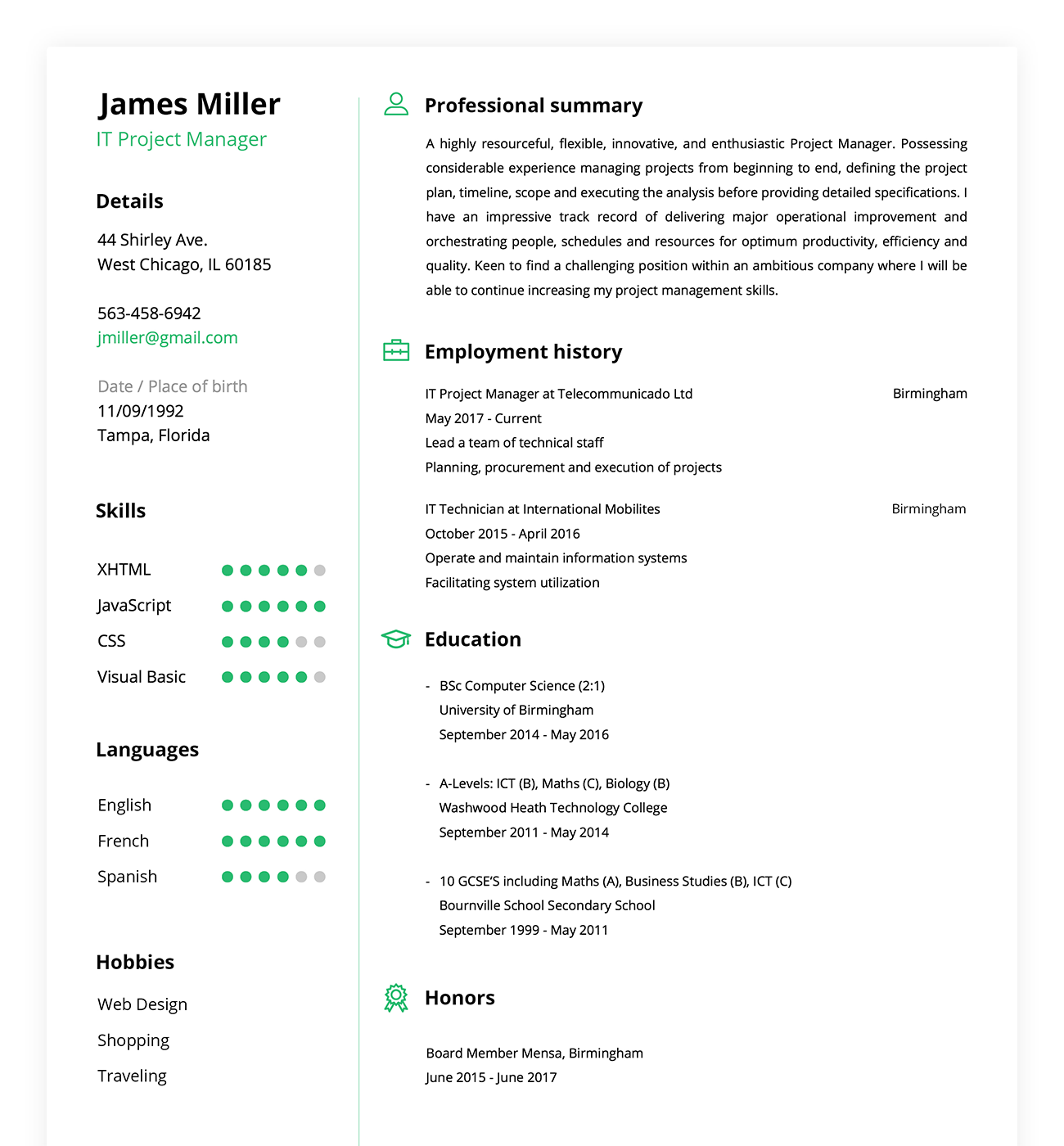 3 EASY STEPS TO CREATE YOUR PERFECT RESUME
CHOOSE YOUR
RESUME TEMPLATE
Our professional resume templates are designed strictly following all industry guidelines and best practices
SHOW WHAT
YOU'RE MADE OF
Not finding the right words to showcase yourself? We´ve added thousands of pre-written examples and resume samples.
DOWNLOAD
YOUR RESUME
Start impressing employers. Download your awesome resume and land the job you are looking for, effortlessly.
How to Write A Resume Cover Letter
The stress of creating your resume is behind you and you thought you were done and ready to face the world of job applications, right? Wrong! Who knew you'd need a resume cover letter to go along with it?
Your resume is rock star status, so your cover letter has to be a shining star, too. It has to be perfect - it's the first impression your next potential employer has of you. The pressure is on.
No need to worry, though, we've got you covered with everything you need to know to learn how to write a cover letter for a resume.
What's a Resume Cover Letter For, Anyway?
Think of it like jumping into a first date without introducing yourself first. You're talking about your history, your talents, and your goals, and your date has no idea who you even are or why you're sitting there. You just jumped into the empty chair and started talking.
Handing your resume to an employer has those nuances. Maybe they have multiple job positions available and you don't know that, so you just hand them your resume or email it to them and wait for a response...but they tossed it in the trash because they didn't know which job you were applying for.
Or maybe you submitted your resume with your application but they were looking to get to a better idea of the person behind the facts and data, so they deleted your info.
A good, meaningful cover letter draws attention to you as the applicant. It introduces you to the hiring manager, sets the stage for your professionalism and skills, and argues convincingly why you should be the one they hire.
It's the one opportunity that you have to fill in the missing blanks of anything out of place on your resume or to include things you didn't have a section for on the resume page. With the right research into the job and the company, it gives you the chance to show off your desire for the position and why you would make a great addition to their company.
That's why a resume cover letter is important. It's a segue into the application process where you can take a few seconds to introduce yourself in a way that makes an impression. It summarizes your resume in a way that tells a story about who you are as a person and as a top candidate for the position you are applying for.
Throwing in a simple cover letter for your resume may take you a few extra minutes, but it may be the difference between a fast hire and hours and hours of ongoing applications and job interviews.
How to Write a Cover Letter for a Resume: The Essentials
The most important thing to remember about your cover letter is that, unlike your resume, it is not a one-size-fits-all document. You're going to have to take some time to research the position you are applying for, the requirements of the job, and the company itself that you want to hire you.
A cover letter is a strong part of your application. If you've got a limited work history for whatever reason, the cover letter is your chance to explain it and extol your great qualities. But an unprofessional or poorly written cover letter is the death of many applicants who had a full resume of amazing talents and skills.
A successful cover letter contains three main components: an attention-grabbing introduction, specific examples of experience that you have or traits that you exhibit that are relevant to the job, and a conclusion that contains a call to action. Your cover letter basically tells a story of you and your successes and achievements.
But you need to understand that you aren't going to fit your entire life's story in this one short page. Your cover letter is a few paragraphs filling one sheet of paper, not a book. If you do it right, your new employer will have plenty of time later to hear all of the other amazing qualities you have and things you've done.
So how do you pick the right stories to tell? Your cover letter should include a selection of truthful experiences that you had that relate to the job you are applying for and show the reader why you would add value to their business.
Include stories that showcase how your work history meets the requirements of the job, how your skills meet those requirements, and why you have the drive to work at that company in particular. Leave your reader excited to check out your resume and learn more about you.
The Best Practices of Writing a Simple Cover Letter for Your Resume
While every cover letter is unique because every person writing them is different, there are some best practices that you should follow while you are creating yours.
1. Be a problem solver. No employer wants to hire someone who needs direction every step of the way. Show off your ability to use your amazing critical thinking skills to solve problems by telling about a particular time that there was a situation that needed resolving. Explain how you were integral in the successful solution.
2. Tell stories that bring to light your personality. While you want to appear professional, you also need to use your own voice while you tell your story. You are not writing to a friend, so slang and comfortable diction are not appropriate, but you should still show off your personality somehow.
Research the company to determine the tone that would be preferred by them. Companies where the focus is on legal or medical issues would most likely look more preferably on applicants who show they take the role seriously, whereas creative industries like art and photography may be more interested in someone who integrates their passionate personality into their letter.
3. Highlight your talents, but be honest about them. There's no sugarcoating it. Your cover letter is your chance to sell yourself as the best person for the job. To do this, you have to highlight your skills, bring the focus onto yourself, and up-play your attributes, while most people are used to downplaying them.
This needs to be done in such a way that there's a balance between acclaiming your actions and boasting. It also needs to be truthful, though. Rest assured that anything you over-exaggerate in your cover letter will come back to haunt you later when your employer asks you to do the job you said you could but you really don't know how, or when you're hired and the truth comes out in another way.
4. Be unique. Almost every other applicant will likely start their introductions the same way: "Hello, my name is _______________ and I would be perfect for your job because I can _______ (insert the skills needed here)."
This may be the only time you're reading a cover letter, but it sure won't be the first or last time for the person looking to hire you. They read the same variety of cover letters and resumes over and over and if yours does not stand out from the crowd and grab their attention, it's going to go in the shred bin.
5. Leave them with a call to action. Politely suggest that they call you for more information and let them know the best times that you are available. Like when you're attempting to set up a next date, don't sound desperate. Give them reasonable times, such as Monday through Friday or any day from 9 to 5 or suggest they email you.
6. Make no mistake... mistakes are deadly! Proofread your cover letter and then read it again. Then, have someone else read it. Many people opt to hire freelancers or online editors to review their cover letters and resumes before they submit them just to ensure everything is correct. You don't want to spend hours poring over your work to make it perfect just to have forgotten punctuation or spelled a simple word incorrectly.
Cover Letter Don'ts
Now that you have everything you need to know how to write a cover letter for your resume, let's finish up with a few common mistakes people make so that you can avoid them on yours.
Here are 4 cover letter don'ts that you need to leave off of yours:
1. Generic phrases: If you have heard them commonly, chances are the hiring managers have as well. Phrases like "To Whom it May Concern," and "Thank you for your time, I look forward to hearing from you" are polite but overly used. Try to come up with a way to say the same thing in a new way.
2. Irrelevant details: Information that does not pertain to the job can be brought up during the interview or later in the hiring process if necessary. Too much info distracts from the important facts you want to showcase.
3. Social media accounts: Yes, you want to be reachable because you are passionate about getting this position, but unless you ask them to contact you on your LinkedIn or Twitter accounts, leave your social media for your personal life.
4. Personal email accounts: When many people first set up their email accounts, they don't always think through the situations when they may need them, so they end up creating emails that can appear unprofessional. If yours falls in the category of childish, silly, or just plain inappropriate, create a new email just for your work needs and check it regularly. Include this one on your cover letter and resume.
Now Go Write Your Resume Cover Letter
With these tips and tricks, your resume cover letter should be professional, eye-catching, and memorable. Written correctly, it will get you in the door for the interview stage, where you can wow them with your amazing personality and show off those other attributes you couldn't squeeze into your cover letter.